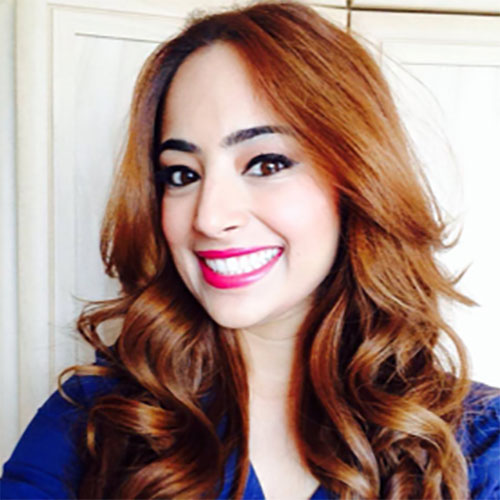 Dr Rupal Fatania (BDS BSc) is a registered Cosmetic Dentist and Advanced Medical Facial Aesthetics Practitioner and has been studying and practicing facial aesthetics for a considerable number of years.
Dr Rupal started her career with a degree in Biomedical Sciences (BSc) from Kings College London in 2007, and since went on to complete further training, qualifying with a Bachelor of Dental Surgery (BDS) from Peninsula College of Medicine and Dentistry.  She has since found passion and interest in the cosmetic aspects of the face and has completed training in advanced medical facial aesthetics with the world-renowned Professor Bob Khanna and Brazilian Aesthetics Plastic Surgeon Mauricio de Maio. She regularly attends prestigious conferences and courses to stay up to date with the latest techniques and concepts in facial aesthetics.
Dr Rupal's skills were recognised when she was personally appointed as Ambassador for the internationally renowned Professor Bob Khanna Training Academy in Reading. This is where Dr Rupal passionately dedicates her spare time teaching and training other Doctors and Dentists in the ever-evolving industry that is Facial Aesthetics.
Dr Rupal is extremely popular with our clients due to her very gentle technique and her understanding of what makes people feel better about themselves. She specialises in the innovative and exciting full facial revitalisation and profile correction. She is good at listening to the individual needs of her clients, and is skilful at achieving a natural and refreshed look, delicately restoring facial features in a safe and reassuring manner. Dr Rupal offers all injectable procedures and has a wide understanding of facial and neck anatomy due to her background in Dentistry.
Dr Rupal is a Platinum Member of the International Academy of Advanced Facial Aesthetics (IAAFA). The IAAFA members are regularly updated on all advances and regulations relating to medical facial aesthetics. As a patient of Dr Rupal, you are in competent and reassuring hands.
Dr Rupal welcomes you to attend a personal consultation where you will have plenty of time to discuss your particular wishes. Deciding to have facial aesthetic treatment is an important step and you need to make sure that you are in safe hands. 
HEAD TO TOE TREATMENTS

Our staff are fully registered and qualified to deal with your needs an we also accept all payment types (excluding American Express), for your treatments and product purchases for your convenience. Please note that we have a cancellation policy of 24 hours and it is important that you are aware that refunds cannot be given if you cancel within a 24 hour period.
At Head to Toe we welcome new clients everyday and we love to see you go home much more relaxed and comfortable.